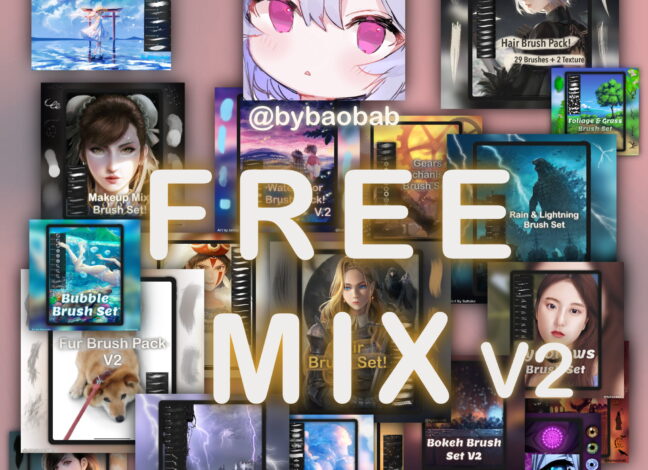 Bybaobab V2 Mix Procreate Brushes
Try the Bybaobab V2 Mix Procreate Brushes, then raise to your new level of creativity. With a collection of 32 free brushes, this powerhouse tool allows you to add mesmerizing elements to your artwork. Whether you want to create realistic clouds, lightning effects, or magical glitters, these brushes have covered you.
The sparkle and glitter brushes add an enchanting touch to any artwork. In contrast, the fur brush creates a lifelike texture perfect for animal illustrations or even adding texture to clothing designs. And let's remember the gears and bokeh brushes! These are ideal for adding steampunk-inspired elements or soft-focus backgrounds that make your subject stand out.
There are many options, including clouds, lightning bolts, light effects, mysterious witches' tools like crow feathers, and hair design aspects such as eyebrows and hairstyles, all paired with striking eyes.
This brush set contains 4 Cloud, 2 Lightning, 2 Light, Witch, Crow, Hairstyle, 2 Eyebrow, Eye, Sparkle, Glitter, 2 Fur, 2 Gears, Watercolor, Spray Watercolor, Flowers, Leaves, Foliage, 3 Bokeh, and 4 Bubble brushes.
Download these free brushes by typing "$0" at Gumroad.
Check the Full Version of 1178 Brushes + 13 Textures + 178 Stamps + 100 PNGs on Gumroad for more brushes from this set.